Seattle Air Superior - Special Savings! Book For This Sunday And Get 10% Off!
HVAC repair service - Auburn
HVAC Repair Service Auburn – The age-old system of climate control meets today's advanced technology. Modern HVAC systems are intricate engineering marvels, equipped with complex technical parts and mechanisms. This is precisely why a seasoned HVAC specialist from Auburn is essential to ensure optimal performance and maintenance.
HVAC repair service in Auburn We Will Get The Job Done The First Time.
Let Us Work While You Unwind
HVAC repair service – Seattle Air Superior – Heating and Air has been providing high-quality air conditioner and furnace services in Seattle, Washington since 2006.
Our values of honesty, integrity, teamwork, and accountability guide all of our actions. As a result, we are the only HVAC company in the Seattle, Washington area. we hold top ratings at HomeAdvisor and the Better Business Bureau.
We're also a member of the ACCA. When you choose us, you'll have access to responsive HVAC service, skilled NATE-certified technicians and durable Lennox heating and cooling products.
HVAC repair service – Seattle Air Superior
Air Conditioning Repair Service

HVAC repair service in Auburn, Washington
We are prepared to solve all your indoor comfort challenges in Auburn, Washington. If dust and pollen trouble you and your family, consult us about indoor air quality.
Seattle Air Superior
HVAC repair

Auburn- Nearby areas 
HVAC repair service Auburn
Algona, Auburn, Bellevue, Black Diamond, Bothell, Burien, Carnation, Clyde Hill, Covington, Des Moines, Duvall, Enumclaw, Federal Way, Issaquah, Kenmore, Kent, Kirkland, Lake Forest Park, Maple Valley, Medina, Mercer Island, Milton, Newcastle, Normandy Park, North Bend Pacific, Redmond, Renton, Sammamish, Sea, Tac, Seattle, Shoreline, Snoqualmie, Tukwila, Woodinville
Schedule Your Service Now & Get Free Estimate
Lenisha S.
Guy is the Best!! He called me back within minutes and was at my house working on my Williams wall heater within a half an hour. He has 15+ years experience so it didn't take him long to diagnose the problem. Turns out the previous installer did not seal the vent properly and whenever the wind would get blustery it would blow out the pilot. Also the igniter and thermocouple needed to be replaced. He fixed everything fast and had my house feeling nice and cozy once again. He didn't charge me for a part he had in his truck either. I am very pleased with Guy's work and great personality. The Price was perfect too. Thanks Guy!!!!
Jeffrey L.
I hired Guy to fix my furnace he responded within 15 minutes and set up an appointment to help me. Next thing I know everything working great he charged me fair price and gave me 1 year warranty on the repair I would definitely recommend him to others 5 stars no other option.
John C.
These guys did a great job on a deep clean... I'll be calling them back for the maintenance cleaning. Guy and Victor were kind and professional.
Kyle Romero
This team is absolutely incredible and some of the most professional workers in the area. They did a thorough cleaning of our ducts two years ago and when a recent home inspection said our ducts were "dirty" they were quick to resend a crew member to reinspect and clean if necessary. Not only did they take pictures to prove the cleanliness and are providing a post report, I am able to prove the home inspector wrong and essentially use Seattle Air as our home inspector to protect us against the buyers trying to look for money and gouge us for money.
Heating and cooling service in AUBURN: Adapting to Local Climate and Understanding System Basics
Auburn experiences a wide range of temperatures throughout the year, from hot summers to cold winters. This variance necessitates heating and cooling systems that can efficiently transition between modes. During summer, the cooling systems work overtime to combat the heat, which can lead to increased wear and tear. Conversely, in winter, heating systems are in high demand, facing similar challenges.
Due to these seasonal extremes, regular maintenance becomes crucial in Auburn. Systems need to be checked and serviced more frequently to ensure they are running optimally. Pre-season checks, particularly in the spring and fall, can help identify potential issues before they become major problems. This proactive approach not only ensures comfort during peak seasons but also extends the lifespan of the systems. For those living in Auburn, finding a reliable heating and installation service in AUBURN is vital to ensure that their homes remain comfortable and energy-efficient throughout the changing seasons.
The Basics of Heating and Cooling Systems in Auburn Homes
Heating and cooling systems in Auburn homes are designed to offer comfort throughout the year, adapting to the city's distinctive climate. The most common systems include central air conditioners, heat pumps, and furnaces. These systems are typically powered by electricity or natural gas, depending on the household's preference and availability. The choice of system often depends on factors like home size, energy efficiency desires, and budget constraints.
Key Facts:
Many Auburn residents opt for energy-efficient systems to reduce their environmental impact and lower utility bills.

The adoption of smart thermostats is on the rise, allowing homeowners to control their heating and cooling remotely and optimize energy usage.

For older homes or additions, ductless heating and cooling systems are becoming popular due to their ease of installation and efficiency.

Often, local utility companies offer seasonal rebates for upgrading to more efficient systems.

Heating and cooling services in Auburn also focus on improving indoor air quality, which can be impacted by both heating and cooling systems.
Troubleshooting Common Heating and Cooling Problems
In Auburn, where heating and cooling systems are essential for year-round comfort, encountering issues with these systems is not uncommon. It's important to recognize common issues and know the initial steps to take before calling for a heating and installation service in AUBURN.
Common Problems and Solutions:
Inconsistent Heating or Cooling – If certain rooms are too hot or too cold, it might be due to blocked air vents or a malfunctioning thermostat. Homeowners should ensure all vents are open and unobstructed and check if the thermostat is working correctly.
Strange Noises from the System – Unusual sounds like banging, whistling, or grinding can indicate mechanical issues. It's often a sign of loose parts or obstructions in the ducts. A quick inspection can reveal if it's something simple like a loose screw or if professional service is needed.
System Not Starting – This could be due to tripped circuit breakers, blown fuses, or thermostat issues. Checking the electrical panel and ensuring the thermostat is set correctly can sometimes resolve the issue. If not, it's time to call a professional.
The Importance of Regular HVAC Inspections in Auburn
Regular HVAC inspections are crucial in Auburn, particularly given the city's varying climate. These inspections help ensure that heating and cooling systems operate efficiently and reliably. Choosing a professional company like SeattleAirSuperior for these services can offer several advantages.
Reasons to Choose SeattleAirSuperior:
Expertise – SeattleAirSuperior has a team of trained professionals familiar with a wide range of heating and cooling systems, ensuring high-quality service.
Preventive Maintenance – They offer preventive maintenance checks that can identify and resolve potential issues before they escalate, saving time and money.
Energy Efficiency – Regular inspections can improve the energy efficiency of your system, which is crucial in a climate as variable as Auburn's.
Longevity of Systems – Proper maintenance can significantly extend the lifespan of heating and cooling systems, ensuring they remain effective and reliable for years.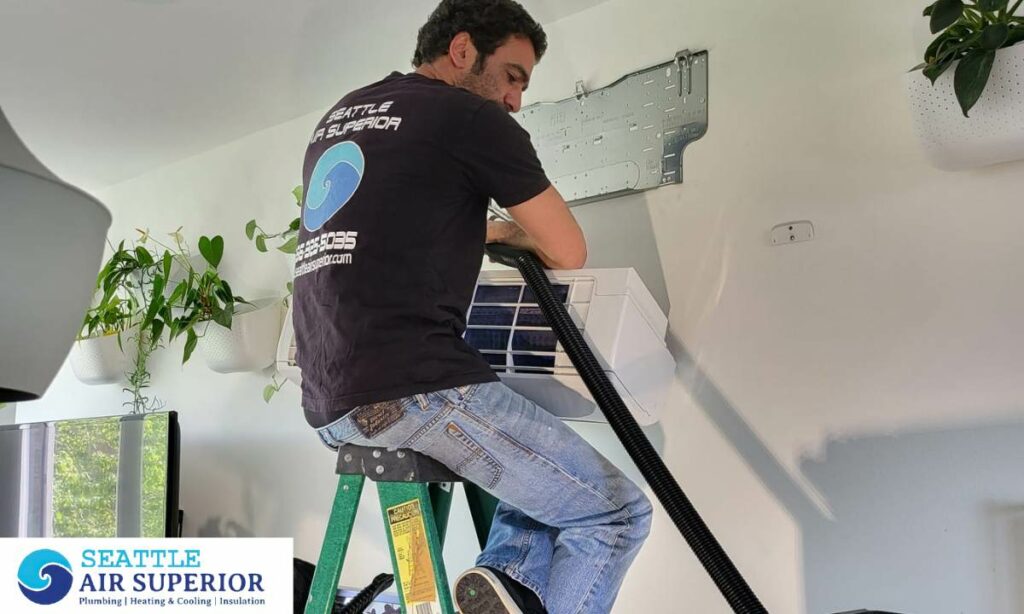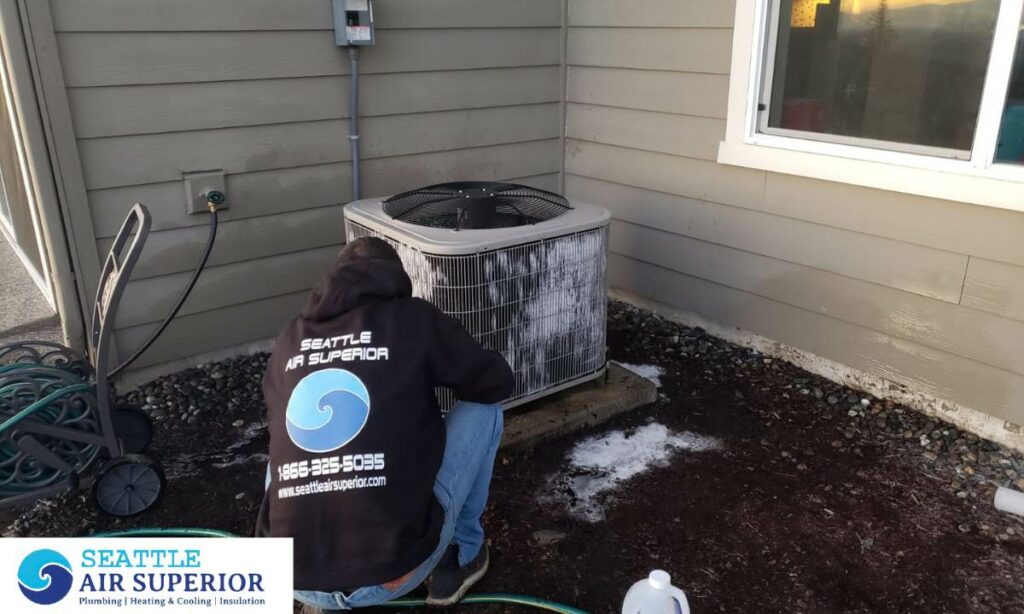 Energy-Saving Tips for Auburn's Heating and Cooling Users
For residents of Auburn, managing the efficiency of heating and cooling systems is not just a matter of comfort but also of energy conservation and cost savings. With the right strategies, users can enhance the performance of their systems, reducing the need for frequent heating and installation services in Auburn. Implementing energy-saving tips is key to achieving this balance, especially in a climate that demands both heating and cooling solutions throughout the year.
Energy-Saving Tips:
Regular Maintenance –

Ensure your heating and cooling systems are regularly serviced by a professional company. This keeps them running efficiently and can prevent costly repairs.

Thermostat Management

– Use programmable thermostats to adjust the temperature when you're not home or during the night. Even a few degrees of adjustment can lead to significant energy savings.

Seal and Insulate –

Proper insulation and sealing of windows, doors, and ductwork can significantly reduce energy loss, making your heating and cooling systems more efficient.

Energy-Efficient Appliances –

Consider upgrading to energy-efficient heating and cooling appliances. These may have a higher upfront cost but offer long-term savings on energy bills.

Use Fans Wisely –

In warmer months, use ceiling fans to circulate air, which can allow you to set the thermostat higher while still feeling cool.

Mindful Ventilation –

Ensure that your home is adequately ventilated. Good ventilation helps maintain air quality and reduces the load on your cooling system during hot months.
Residents looking to upgrade or repair their heating systems can benefit greatly from the specialized expertise of a heating and installation service AUBURN offers, ensuring top-notch work and lasting results. A comprehensive heating and cooling service in Auburn not only addresses immediate repair needs but also provides ongoing maintenance to keep systems running smoothly year-round.